The Regulation of Halal Certification in Indonesia.
According to the Halal Product Assurance Law No. 33 of 2014, the government of Republic of Indonesia has mandated that all products marketed in Indonesia shall be halal certified. The commodities and/or services mentioned include those for consumer goods, pharmaceuticals, cosmetics, chemicals, biological products, genetically modified items, and food & beverages.
The following are the roles of various parties involved and a brief overview of the halal certification process for products circulating in Indonesia:
1. Halal Product Assurance Organizing Agency (BPJPH):
Implements the Halal Product Assurance in Indonesia.
Issues Halal Testing and Halal Certification.
2. Indonesian Ulama Council (MUI) : Determines the Halal status of products (Fatwa on Products).
3. LPPOM MUI: Conducts Inspection/audits for the Halal status of products.
LPPOM MUI can be a strategic partner for businesses in obtaining halal certification issued by BPJPH with the simplest and most efficient process, ensuring that the halal certification timeline complies with regulations.
The halal product examination conducted by LPPOM MUI not only meets Indonesian government regulations but also complies with global halal certification standards such as the UAE, GSO, and SMIIC standards. This supports the acceptance of halal products not only in Indonesia but also in various export destination countries.
HALAL INSPECTION OF FOR
PRODUCTS MARKETED IN INDONESIA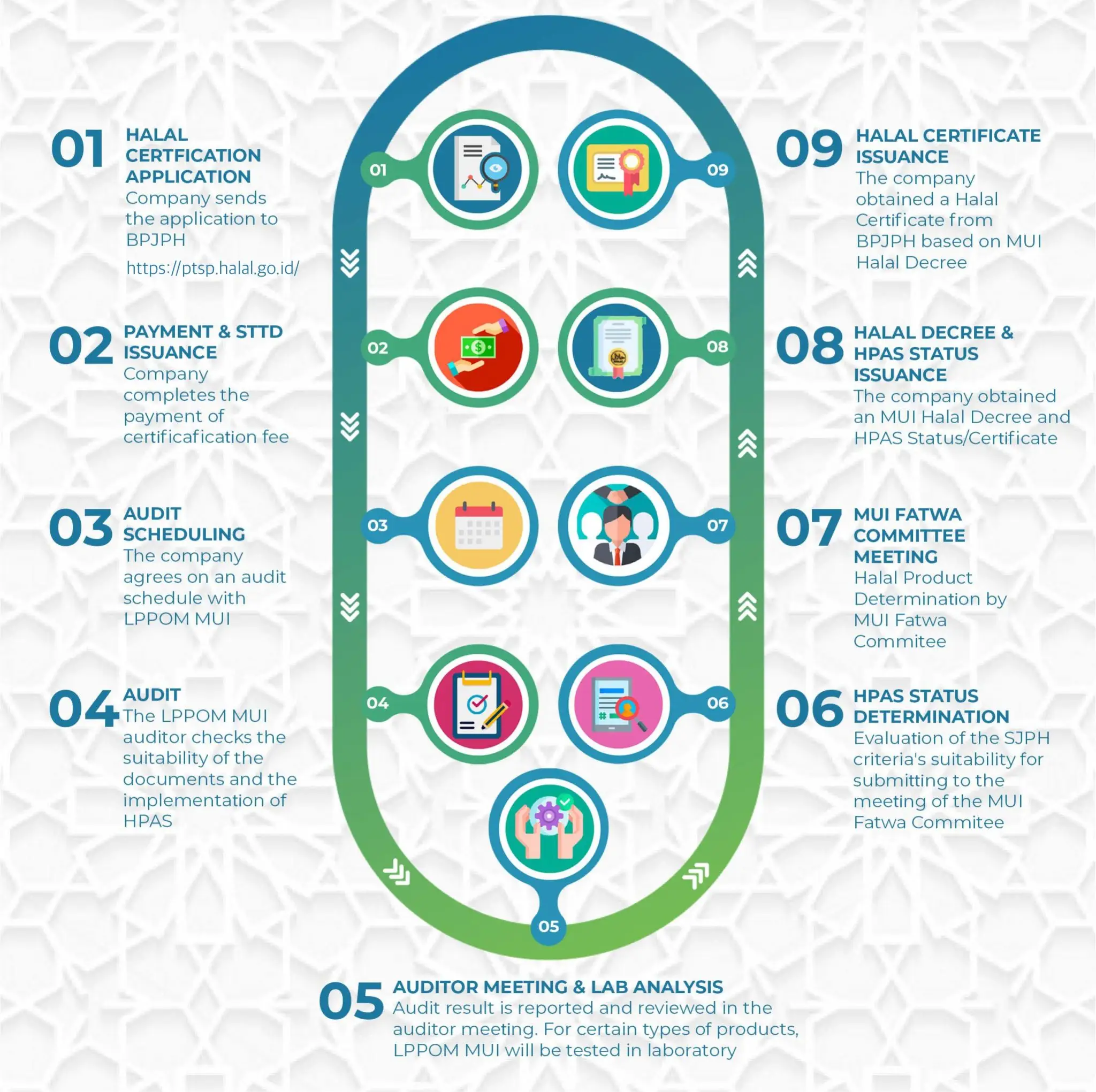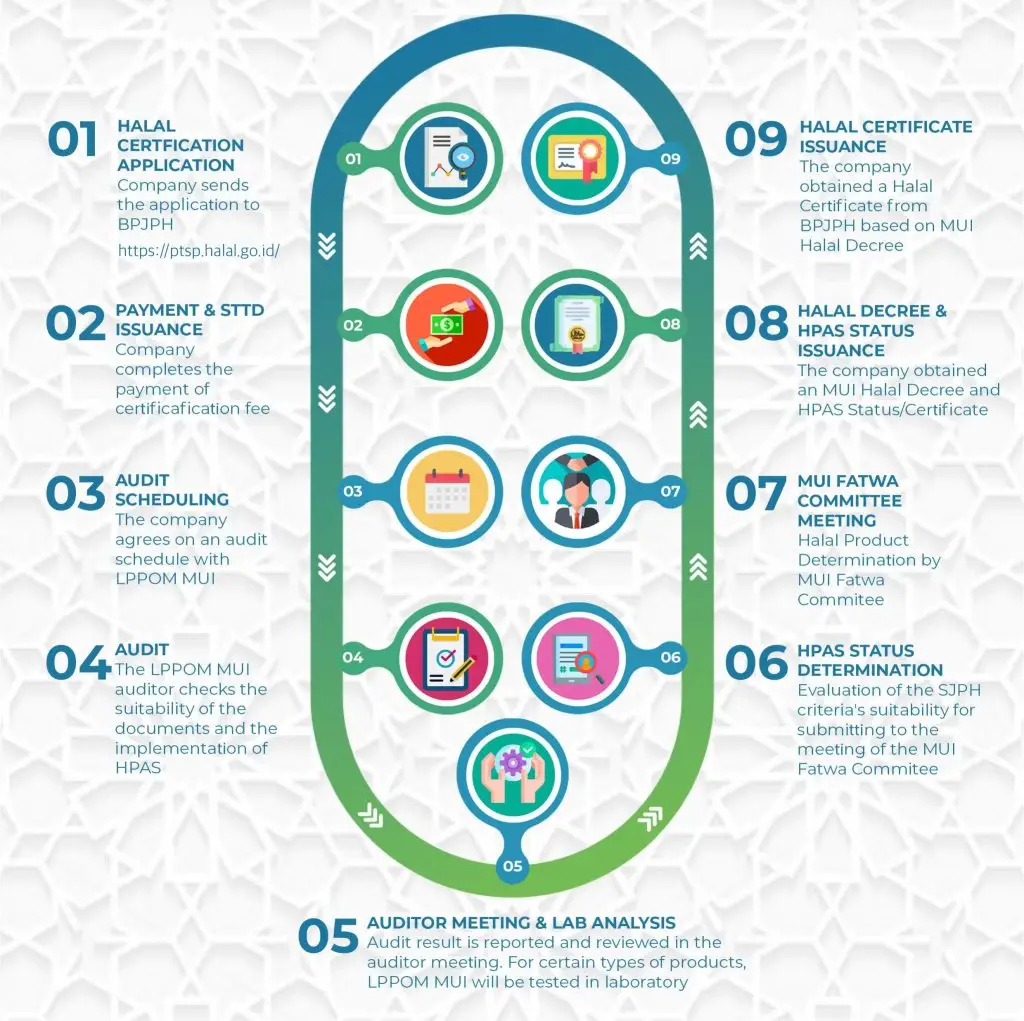 Halal certification involves three parties: BPJPH, LPPOM MUI as the halal certification authority (LPH), and MUI. BPJPH oversees the implementation of halal product assurance. LPPOM MUI is responsible for document adequacy assessment, audit scheduling, conducting audits, auditor meetings, issuing audit memoranda, and presenting the audit report during the MUI Fatwa Commission meeting.
LPPOM MUI infrastructure & Resources to support Halal certification
RELIABLE and EXTENSIVE NETWORK
SUPPORTED by ONLINE-BASED SYSTEM
STRONG DATA INFRASTRUCTURE FOR PROCESSING SIMPLICITY
SUPPORTED BY RESPONSIVE COMMUNICATION CHANNELS
With 34 years of experience in conducting halal product inspections, LPPOM MUI has various infrastructures and resources to provide reliable and communicative inspection services.
Call Centre Halo LPPOM 14056 and Halal Partner
Interactive communication and clear guidance on every policy and procedure that businesses need to go through is crucial for halal certification processing. Therefore, LPPOM MUI has several communication channels, such as:
Please don't hesitate to contact us. The LPPOM MUI team is always ready to provide the information you need regarding halal certification.
The Audit Optimization Program
The Audit Optimization Program aims to accelerate the assignment of auditors who will handle the halal product inspection process, starting from the pre-audit stage, conducting the audit, and reporting the audit results to the Fatwa Commission. This program facilitates the certification process through effective two-way communication between the auditor and the auditee in fulfilling halal certification requirements. LPPOM MUI auditors will engage in intensive communication throughout the halal certification process, from start to finish.
Currently, there are more than 1000 LPPOM MUI auditors spread across Indonesia and even in countries such as China and India. LPPOM MUI places a strong emphasis on auditor competence, which is crucial in expediting the halal certification process for you.
Our programs to ensure the success of your halal certification process
Not familiar with halal certification requirements? Unsure about the necessary documents to prepare? Wondering how to register and who to contact?
Don't worry, you just need to follow LPPOM MUI's programs:
Introduction of Halal Certification
Get information about the latest developments in halal certification regulations, requirements, and procedures through the Halal Certification Introduction (HCI) program directly delivered by the experts. This program is free of charge and held regularly multiple times every month through online meetings. Adjust your schedule to join the discussion with LPPOM MUI's team by REGISTERING HERE to attend the HCI program.